Everyone wants an amazing squad of besties, but should it really be composed of your co-workers?
On the surface, work friendships might seem like the best thing ever — you get to hang with your buddies all day, and you never have a shortage of lunch dates or happy hour companions.
In reality, it's not always that simple. Power dynamics, getting distracted on the job, and contending with the dreaded 'office frenemy' are all among the potential pitfalls of developing friendships on the job.
It is possible to forge powerful, lasting bonds with co-workers — it's all about respect, clear boundaries, and realistic expectations. Here's what you need to know about navigating office friendships while balancing your job responsibilities.
Table of Contents
Are Work Friendships a Good Thing?

Is making friends with your co-workers a good thing? In general, yes. According to data published in Personnel Psychology, having friends at work could lead to greater productivity, retention, and job satisfaction — all great things.
Lauren Berger, CEO & Founder of both CareerQueen.com and InternQueen.com, is a big fan of office bonding. "It's definitely appropriate to become friends with co-workers," she says. "Some of the closest friendships are from work!"
Of course, just because you can make friends at work doesn't mean you always will. It depends on the company and corporate culture, according to Mark Herschberg, author of "The Career Toolkit, Essential Skills for Success That No One Taught You."
"Smaller companies staffed by people who have worked together for a long time or have known each other in the past often have significant friendships," says Herschberg. "Newcomers to the company may feel the camaraderie and develop friendships of their own with their new co-workers. At other companies, socialization is less common. Ultimately it comes down to the personal preferences of the two people as to whether they want a friendship."
Is it Ever a Bad Idea to Be Friends With Co-Workers?
Not all office friendship situations are so simple. For instance, manager-subordinate friendships can prove challenging.
Herschberg notes that while these friendships are possible, there's an inherent duality. "There will be two relationships between them, work and non-work, and in the former, there is a power dynamic," he says. "This can be a problem if someone who felt equal to a friend now feels inferior. Likewise asking favors of friends, e.g., 'Can you help me move this weekend?' has more complicated power dynamics when the friend asking has power over your job and raises."
As a figure of power in her company, Berger echoes this sentiment. "I'm the CEO/Founder and still manage a good portion of the day-to-day," she explains. "It can be difficult to maintain friendships at work because I'm simultaneously responsible for evaluations, hiring/firing, mentoring, and holding folks accountable."
Work Friendships: Rules for Success

There can be a fine line between successful workplace camaraderie and relationship confusion. Here are some tips for navigating this sticky territory…
Establish Boundaries
Boundaries can be a gateway to success for many things in life — including office friendships. Establishing clear boundaries with friends at work can help keep things … well, friendly. Initiate a frank conversation about expectations and what feels OK in your friendship. It might feel awkward, but it can have long-term positive effects.
This is particularly true, according to Berger, because the workplace hierarchy is ever-changing. "If you are friends with someone and then they get promoted, you may want to have a short informal conversation about personal/professional boundaries," she says. "I'd also recommend keeping workplace topics confidential when possible and not going immediately to your 'work friend' to chat about it."
Remember: You Have to Work Together
Unlike friends who are purely part of your social network, work friends are connected to your career trajectory. That means it's important to align your conduct accordingly. You may also need to adjust how much or what you share with co-workers.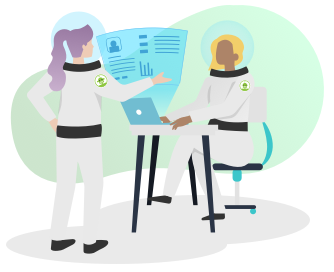 "If you get into a disagreement with a friend, you two can take a break from each other for a week or two. On the other hand, if you get into a heated disagreement with a coworker, you might still be interacting with this person every day whether you want to or not," says Herschberg. "Some topics like relationships, religion, and politics can be especially sensitive, so I'd be cautious about bringing them up."
How to Start Forging Friends at Work
Making friends with co-workers isn't always easy.

According to a study by Olivet Nazarene University, it doesn't happen instantly. In a survey of 3,000 Americans with full-time jobs, it was determined that while 21% of new workers will forge fledgling friendships within days, 27% noted it took six months or longer to buddy up with co-workers.
If you want to speed up the process, Herschberg suggests a proactive, friendly approach.
"When you join a company, get to know as many people as possible and seek to be helpful to them. This sets you off on the right foot," he says. "An extensive network within the organization also helps build your reputation as someone who is friendly and helpful so if you do have an incident with someone, that person may think twice before jumping to the conclusion that you're not a good person given your wide-ranging reputation, and will instead be open to seeing how you are in the future."
The Flipside of Friendship: Avoiding 'Frenemies'
Unfortunately, some office relationships can go sour. What do you do if you're contending with an unpleasant co-worker?
Berger suggests taking the high road: "Try to focus on doing great work, adding value to others, supporting co-workers, congratulating others when congrats are due, and just being consistent. Sometimes you need to hang around a bit for a team to fully respect/appreciate you — especially with workplace teams that have been together for a while."
However, if you're repeatedly on the receiving end of disrespectful behavior, it may be time to speak up. Berger continues, "If you ever feel uncomfortable, speak to a supervisor or someone in HR asap."
Friends Til The End … Of the Workday, at Least
Work friendships can make your work and personal life more pleasant. However, it's important to remember that you still have to work together. That means that you've got to keep it professional — at least during office hours. Establishing clear boundaries and extending one another respect is vital for successful and lasting friendships in the workplace.